ODROID-HC4 is new Home-Cloud platform based on the same ARM CPU as the ODROID-C4. We adopted a 12nm fabricated energy efficient 1.8Ghz Cortex-A55 quad core processor with faster 4GB DDR4 RAM. A 16MiB SPI flash chip exists on the board for the useful Petitboot feature.
This page product doesn't include OLED
We adopted a 12nm fabricated energy efficient 1.8Ghz Cortex-A55 quad core processor with faster 4GB DDR4 RAM. A 16MiB SPI flash chip exists on the board for the useful Petitboot feature.
We decided to drop the use of USB3.0 to SATA bridge solutions (quirks, additional IO layer, etc) for the ODROID HC4. We are therefore using a more native and reliable PCIe to SATA direct bridge solutions. In doing so the HC4 board provides two SATA storage docks.
A 5.5mm DC power jack, UHS-1 compatible micro-SD slot, USB 2.0, HDMI 2.0 and 1GbE port are available on the rear side of the transparent shell case.
Board Detail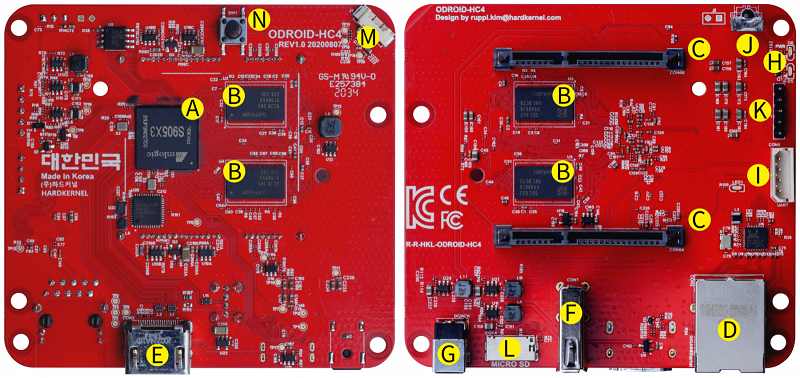 | | | | |
| --- | --- | --- | --- |
| A | CPU (Amlogic S905X3) | H | 2x System LED indicators |
| B | DDR4 memory (4GiB) | I | 1x UART for system console |
| C | 2x SATA ports | J | 1x IR receiver |
| D | 1x RJ45 Ethernet port (10/100/1000) | K | 5x GPIO pins (for optional OLED display) |
| E | 1x HDMI 2.0 | L | 1x Micro SD slot |
| F | 1x USB 2.0 host port | M | 1x Cooling fan |
| G | 1x DC power jack (Outer diameter : 5.5mm, inner diameter 2.1mm) | N | 1x Boot switch |
The toaster form factor ODROID HC4
accepts 2 x 3.5" or 2 x 2.5"" mechanical or SSD disks. You can obviously also use one mechanical and one SSD. See two examples shown below. Thanks to Linux LVM or mdadm you can combine two disks in RAID 0, RAID 1 or optimize IO with a large disk using one mechanical drive and an SSD for disk caching (LVM, bcache, etc).
Two 12TB high performance HDDs on the HC4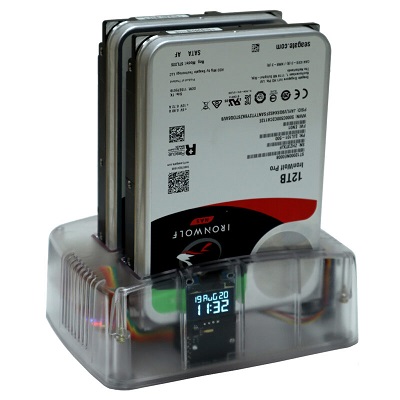 Two Samsung SSDs on the HC4

Block diagram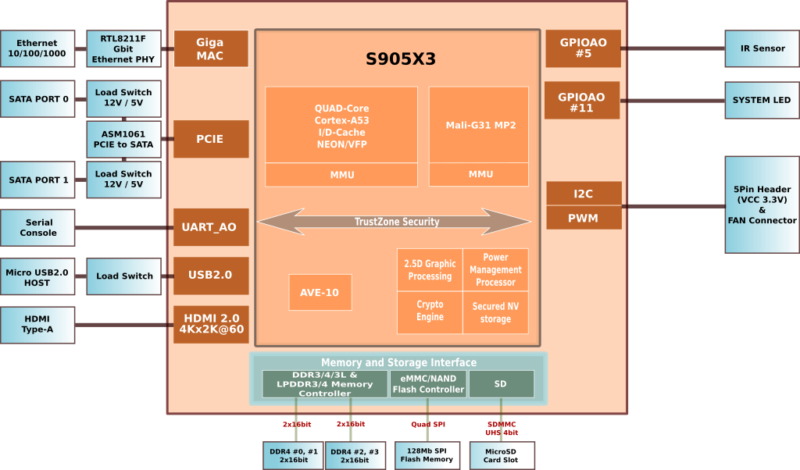 SATA interface performance
We connected a SATA SSD to the HC4 platform and measured the storage IO throughput. We could observe 390~420MB/s transfer speed which is not saturated at the maximum level ~500MB/s which is quite good for many applications.
odroid@hc4:/media/ssd2$ iozone -e -I -a -s 100M -r 4k -r 16384k -i 0 -i 1 -i 2





       Iozone: Performance Test of File I/O





               Version $Revision: 3.489 $





               Compiled for 64 bit mode.





               Build: linux-arm





                                                             random    random     





             kB  reclen    write  rewrite    read    reread    read     write     





         102400       4    44097    62373    75362    75511    39859    60806 





         102400   16384   

428515   426902   390226   392564   391412   427137

 
SMB/CIFS network file transfer performance over the Gbit Ethernet connection
As shown below Windows OS client shows a sustainable 100+ MB/s transfer speed when we download/upload large files.
Downloading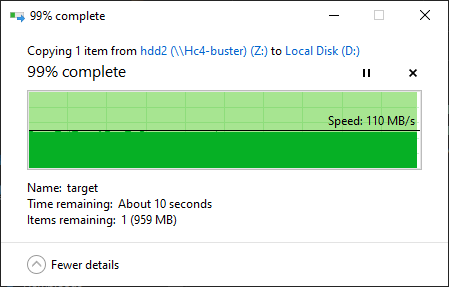 Uploading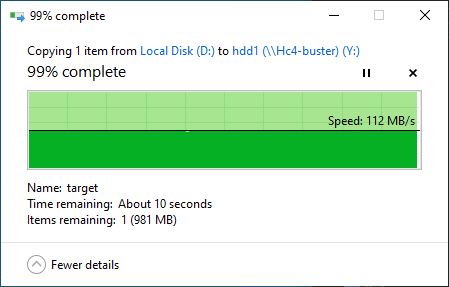 Helios LAN Test Result
Samsung 860 EVO 250GB SSD
Seagate Barracuda 2TB HDD (ST2000DM006)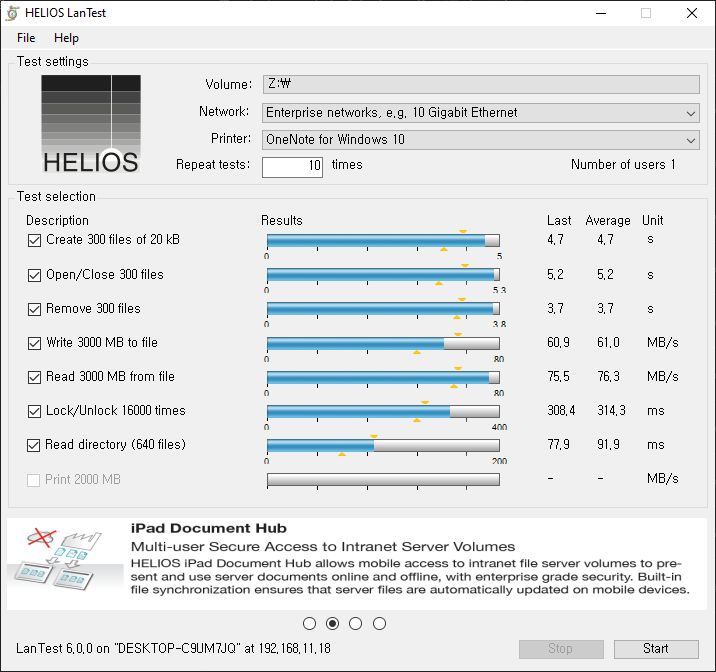 Thermal Characteristics
The SoC temperature was around 50~60°C with very heavy computing loads while the  chamber temperature was set at 30°C. There is a 40mm cooling fan in the case and it manages the SBC temperature well and the CPU runs without any thermal throttling.
We could keep reading the HDD temperature via smartctl command and it was around 40°C with a continuous heavy rsync test between two HDDs.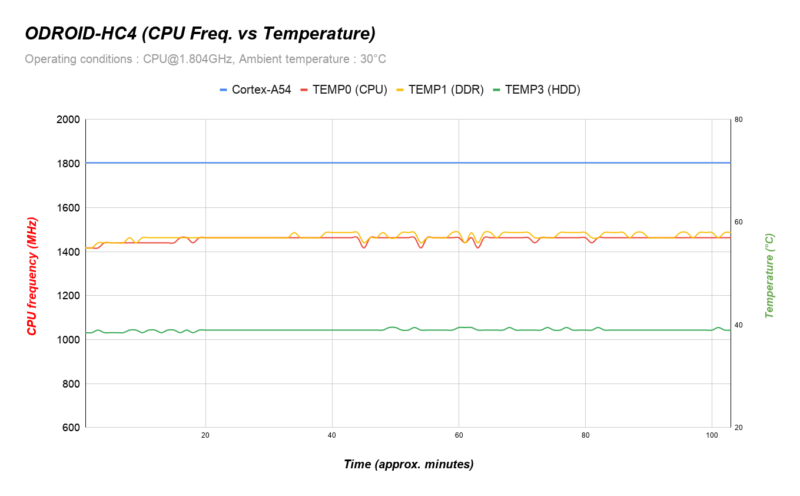 Thermographics
When the ambient temperature was 33°C, the HDD surface temperature was up to 45°C. 
Once we used the same system at a normal 25°C room temperature, the HDD surface was lower than 40°C.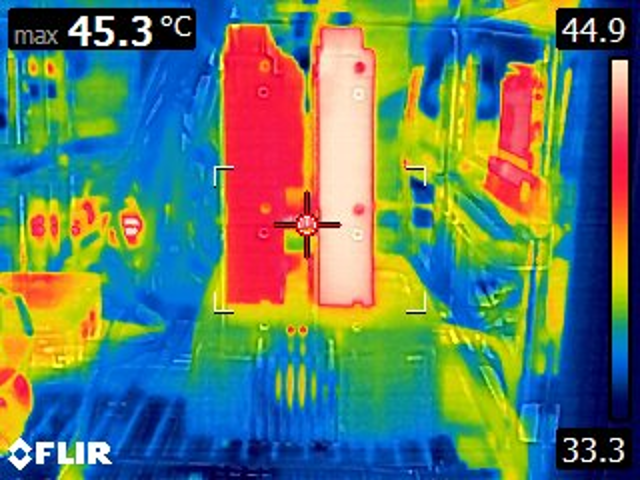 Power Consumption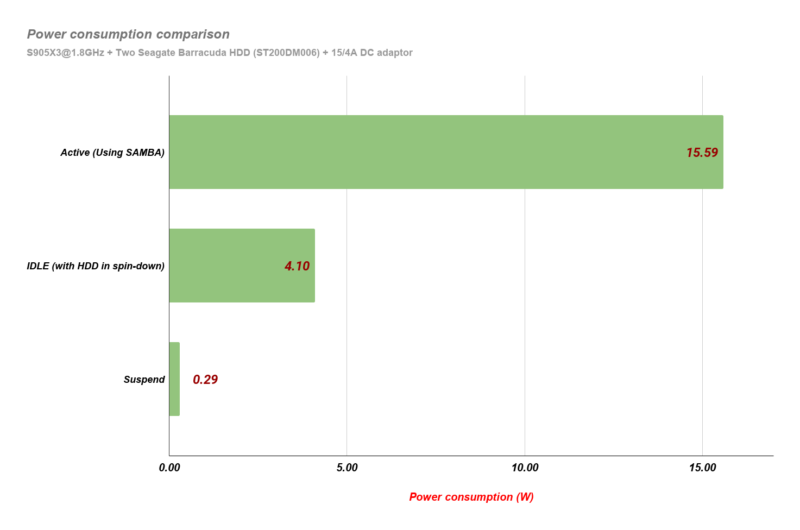 Note 1: ST2000DM006 spin-down power consumption is 0.75W per HDD. Therefore, the HC4 idle mode power consumption is about 4W.
Note 2: Power consumption in Active state is tested while copying huge files through SAMBA service.
Note 3: Wake-up sources for the Suspend mode: Wake-on-LAN, IR remote receiver and RTC Alarm.
Software Support
Petitboot can find the OS on the SD card, the HDD or the SSD. So even if you do not have an SD card but you have a plugged-in HDD or SSD that has an OS installed, Petitboot will boot the HC4 using the OS from the HDD or SSD. Debian/Ubuntu OS can run with the Hardkernel's preinstalled OS image or Debian/Ubuntu Netboot Installer which you can obtain from the ODROID forum.
Supported Linux kernel versions are:
4.9.230 or newer (Hardkernel stock OS version)

Mainline kernel 5.8 or newer (Unofficial version from ODROID forum)
Specifications
Form Factor
Board Dimensions: 84mm x 90.5mm x 25.0mm
Heatsink Dimensions: 40mm x 32mm x 10mm
Weight: 280g including heatsink, fan and case
Processor
Amlogic S905X3 Processor
L1 instruction cache: 32 KB, 4-way set associative (128 sets), 64 byte lines, shared by 1 processor
L1 data cache: 32 KB, 4-way set associative (128 sets), 64 byte lines, shared by 1 processor
L3 data cache: 512KB , 16-way set associative (512 sets), 64 byte lines, shared by 4 processorsQuad-Core Cortex-A55 (1.800GHz)
ARMv8-A architecture with Neon and Crypto extensions
Mali-G31 MP2 GPU with 4 x Execution Engines (650Mhz)
Memory
DDR4 4GiB with 32-bit bus width
Data rate: 2640 MT/s (PC4-21333 grade)
1.2Volt low power design
Storage
1x Micro SD slot (DS/HS mode up to UHS-I SDR104)
Networking
1 x GbE LAN ports (RJ45, supports 10/100/1000 Mbps)
– Realtek RTL8211F (Ethernet transceiver)
– LED indicators
* Green LED: Flashing by data traffics at 100Mbps connection
* Amber LED: Flashing by data traffics at 1000Mbps connection
Video
1 x HDMI 2.0 (up to 4K@60Hz with HDR, CEC, EDID)
Audio
1 x HDMI digital output
Cooler
1 x Passive heatsink ( 40x32x10 mm ) on the CPU of PCB board
1 x Hydraulic Bearing FAN
– Rated Voltage : 5V
– Rated Current : 100mA
– Max Speed RPM : 4,000
– Air Flow CFM : 4.3
– Air Pressure (In H2O) : 0.053
– Noise Level(dBA) : 23.9
– Dimension : 40 x 40 x 10.6 mm
– Wire & Connector : 80mm, 4 pin 1.25mm pitch
External I/O
1 x USB 2.0 host port
1 x Debug serial console (UART)
2 x SATA Connectors
Other features
IR receiver for remote controller
System LED Indicators:
– Red (POWER) – Solid light when DC power is connected
– Blue (ALIVE) – Flashing like heartbeat while Kernel is running.
Power
1 x DC jack : outer (negative) diameter 5.5mm, inner (positive) diameter 2.1mm
DC input : 14.5V ~ 15.5V
– DC 15V/4A power adaptor is recommended. Sold separately.
Power consumption with two ST2000DM006 HDDs :
– IDLE(with HDD in spin-down) : ≃ 5.88W
– Active(using SAMBA): ≃ 15.59W
– Suspend: ≃ 0.29W
NOTE! Those marks are caused during process of injection molding, not defect or damage.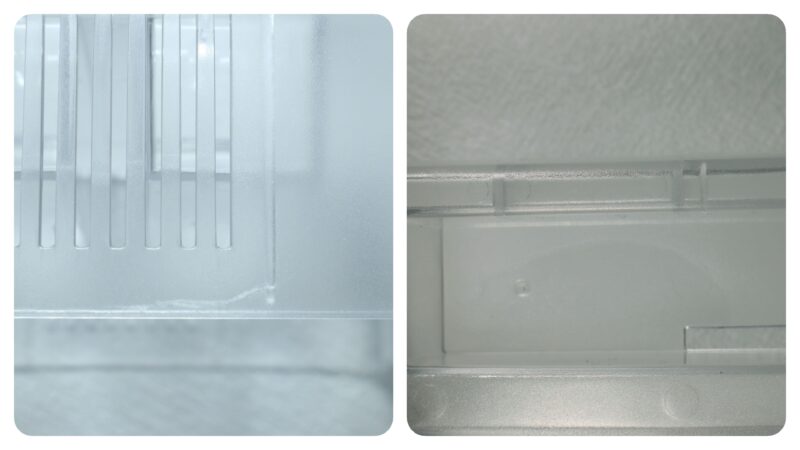 The terms HDMI and HDMI High-Definition Multimedia Interface, and the HDMI Logo are trademarks or registered trademarks of HDMI Licensing Administrator, Inc. in the United States and other countries.

용어 HDMI 및 HDMI High-Definition Multimedia Interface 그리고 HDMI 로고는 미국 및 기타 국가에서 사용되는HDMI Licensing Administrator, Inc.의 상표 또는 등록상표입니다.