The low-cost variant of our most popular and powerful ARM SBC ODROID-N2+. 
This project was actually initiated at the request of several B2B customers. They were satisfied with the performance and convenience of the highly versatile N2+. However, they wanted to embed a relatively compact, cost-effective, simple, and still high-performance SBC into their system.
Therefore, we made it!
Smaller and neater form factor: 69 x 56mm 

Small size allows for mounting inside a variety of small devices

Suitable for various standalone embedded system which don't require Ethernet connectivity

Suitable for building robots, drones, arcade consoles, human-machine-interface devices, and many other applications

Faster and lower power consumption LPDDR4 RAM

Lightweight

Low cost
While the letter 'L' does not refer to any specific word, it has various meanings such as Little, Leaf, Lynx, Lovely, Lumen, LPDDR and Light. We removed some features which were available on the N2+ to reduce the material cost and to minimize the PCB form factor. Ethernet, RTC, SPI-Flash, OTG port, Analog audio output, IR receiver, three USB 3.0 ports and the large heatsink frame were removed. 
 * The ODROID-N2L USB 3.0 port has compatibility and stability issues with some Super-Speed network devices.
In particular, USB 3.0 to Ethernet adapters cannot be used reliably.
Block diagram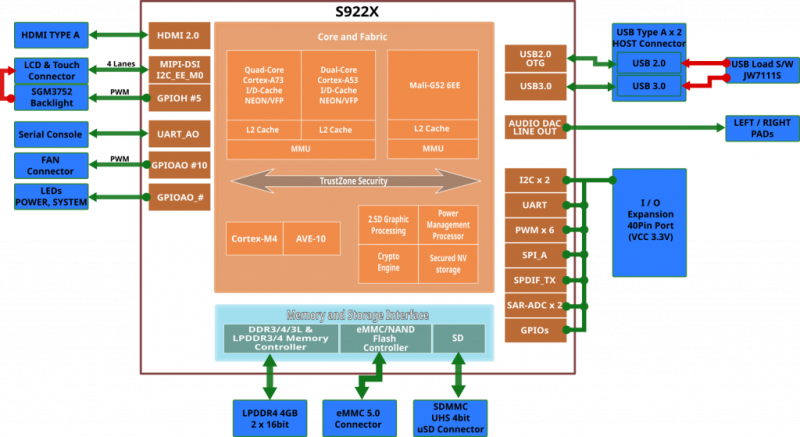 If you need wireless connectivity, consider using a USB adapter like our WiFi Module 5BK.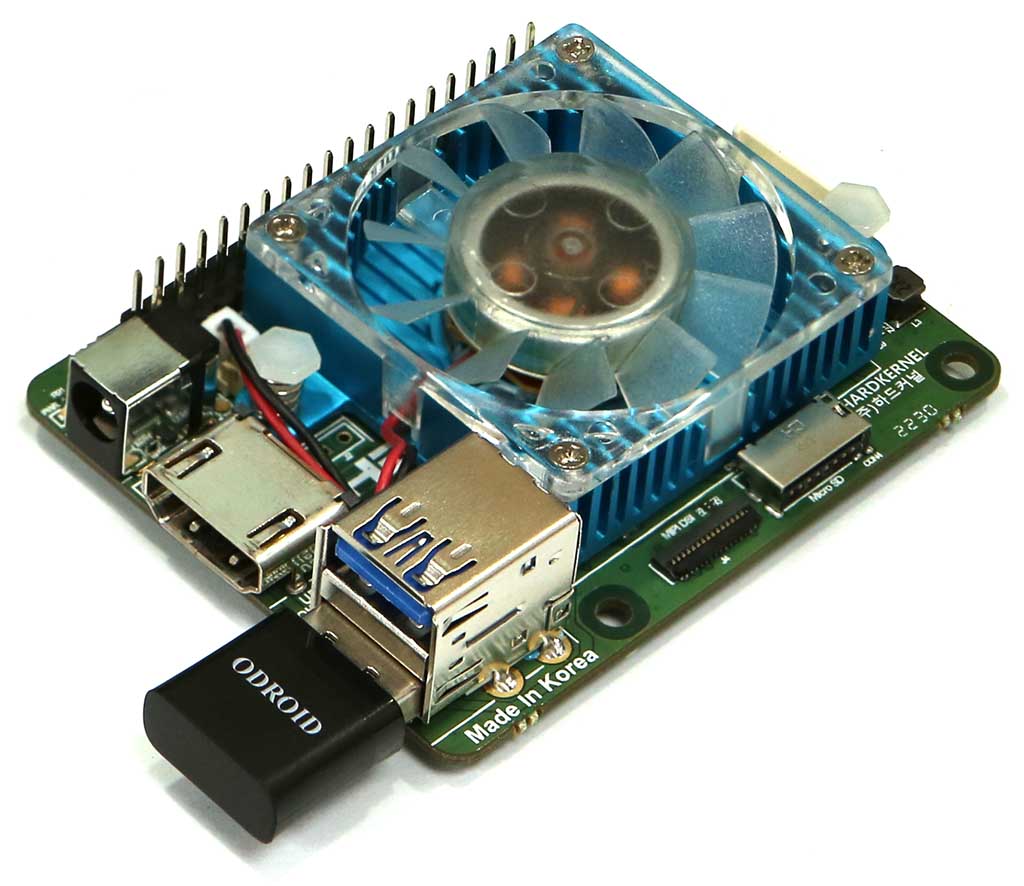 Performance
We replaced the DDR4 RAM chips with a single LPDDR4 chip to minimize the PCB form factor and reduce power consumption. As a bonus, around 20% higher DRAM interface clock frequency is an obvious and important improvement. We could find 10% to 20% of increased system performance compared to the original N2+ in various benchmark test results.
The GPU benchmark glmark2-es2 also showed about 10% of increased performance which is  very similar to the improvement of the memory bandwidth (MBW) test.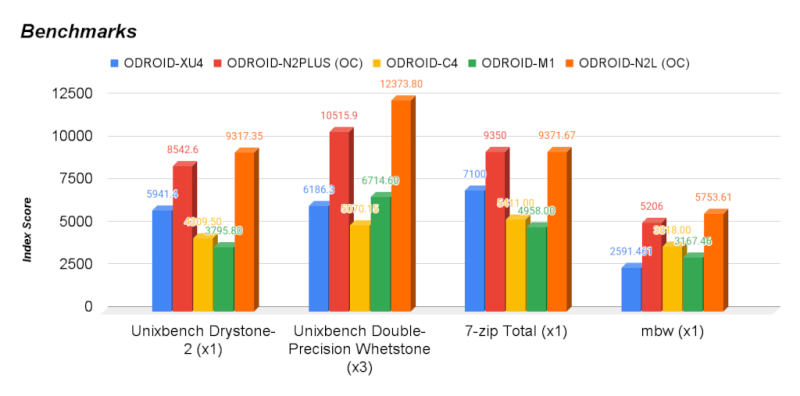 Power consumption
The N2L power consumption is obviously lower than ODROID-N2+ thanks to the less power demanding LPDDR4 memory and the removal of some components.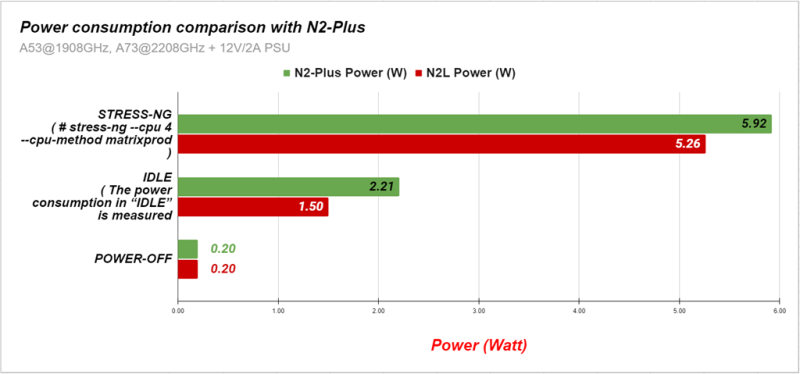 We used our SmartPower3 (see https://www.hardkernel.com/shop/smartpower-iii/) to test and measure the ODROID-N2L power consumption while performing specific activities.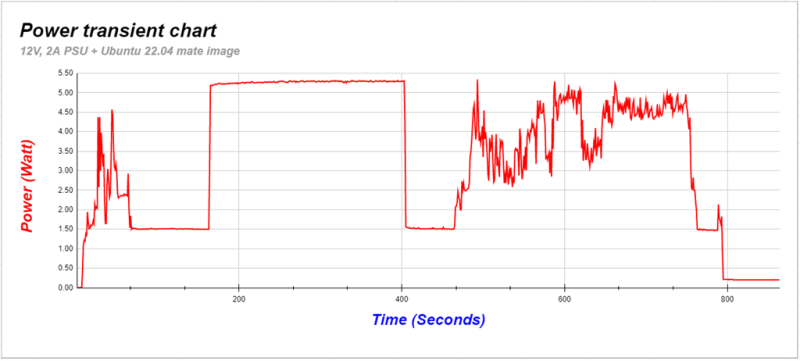 | | |
| --- | --- |
| Activity | Power Avg. |
| Ubuntu Desktop Booting | 2.429 |
| IDLE | 1.836 |
| CPU Stress (stress-ng) | 5.134 |
| YouTube play | 3.991 |
| Power Off | 0.204 |
Thermal characteristics
The stock cooling fan must always rotate to avoid thermal throttling when running a very heavy computing load with an overclocked 2.4Ghz CPU clock frequency.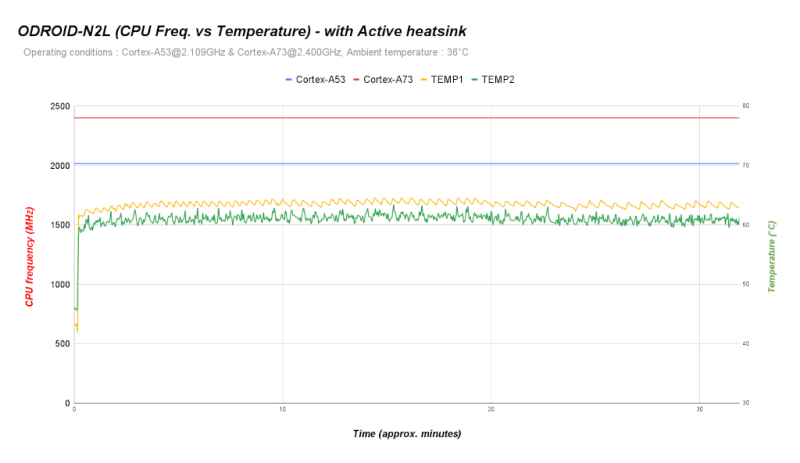 If your system design doesn't allow moving parts such as a cooling fan, you will need to replace it with a passive heatsink. In this scenario, you may need to limit the maximum CPU frequency to lower than 2Ghz if the working ambient temperature is high and computing load is very heavy.
Since the heat dissipation characteristics are somewhat diminished, the maximum clock frequency of the CPU may be slightly lowered and will need to be taken into consideration according to the purpose.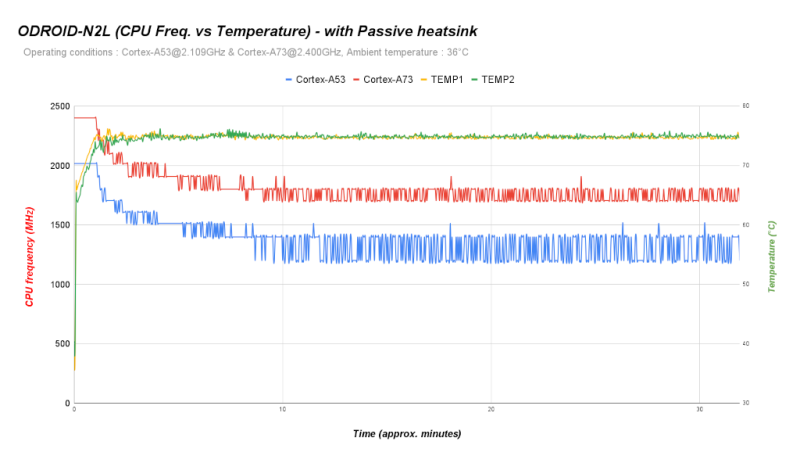 OS images and CAUTION
Because the DRAM chip was changed from DDR4 to LPDDR4, the existing OS image for N2/N2+ will NOT boot on N2L.
It is necessary to modify the boot loader files at a minimum.
Currently, the following OS images for N2L have been prepared.
Android 9.0 64bit and 32bit images

Ubuntu 22.04 Mate / Minimal with Kernel 4.9

Ubuntu 22.04 Desktop with Kernel 5.15 and upstream

EmuELEC (TBD)
Board details
| | | | |
| --- | --- | --- | --- |
| A | Amlogic S922X CPU | G | 1 x Micro SD Slot |
| B | LPDDR4 RAM | H | 1 x UART for System Console |
| C | DC Power Jack | I | 1 x Fan Connector |
| D | 1 x HDMI 2.0 | J | 40 x GPIO Pins |
| E | Up: 1 x USB 3.0, Down: 1 x USB2.0 | K | 1 x eMMC Module Socket |
| F | 1 x MIPI DSI 4Lane Connector(TBD) | | |
Specification
Form Factor
Dimensions including Fan heatsink: 69mm x 56mm x 22mm
Dimensions including Tall heatsink: 69mm x 56mm x 32mm
Weight: 50g including Fan heatsink, 66g including Tall heatsink
Processor
Amlogic S922X Processor (12nm)
Quad-core Cortex-A73(2.2Ghz) and Dual-core Cortex-A53(2Ghz)
ARMv8-A architecture with Neon and Crypto extensions
Mali-G52 GPU with 6 x Execution Engines (800Mhz)
Memory
LPDDR4 4GiB or 2GiB with 32-bit bus width
Data rate: 3216 MT/s
1.1Volt low power design
Storage
1 x eMMC connector (8G, 16G, 32G, 64G and 128G are available)
1 x microSD slot (DS/HS modes up to UHS-I SDR104)
Networking
Optional WiFi or Ethernet USB adapters
Video
1 x HDMI 2.0 (up to 4K@60Hz with HDR, CEC, EDID)
– Although the +5V Power pin is able to supply a minimum of 300mA, according to HDMI 2.0 specification, a sink shall not draw more than 50mA of current from the +5V Power pin.
Audio
1 x HDMI digital output
External I/O
1 x USB 3.0 Host port
1 x USB 2.0 Host port
1 x Debug serial console (UART)
1 x MIPI DSI 4Lane (TBD)
1 x Peripheral Expansion Header (40-pin, 2.54mm pitch)
– 2 x DC 5V, 2 x DC 3.3V, 1 x DC 1.8V, 8 x GND
– 1 x SPI
– 1 x UART
– 2 x I2C
– 25 x GPIO (Max)
– 2 x ADC input (10bit, 1.8V Max)
– All of I/O signal level is 3.3 Volt except for ADC input at max 1.8 Volt
Other features
Built with a large passive heatsink
System LEDS Indicators:
– Red (PWR) – Solid light when DC power is connected and only when a proper OS is running.
– Blue (ALIVE) – Flashing like heartbeat while Kernel is running.
Active Cooling Fan Connector (5V 2-pin)
– Connector (2-pin, 1.25mm pitch)
Power
1 x DC jack : outer (negative) diameter 5.5mm, inner(positive) diameter 2.1mm
7.5V ~ 16V (Recommend range of input)
– DC 12V/2A power adapter is recommendedPower consumption:
– IDLE : ≃ 1.5W (Performance governor), 1.3W(Conservative governor)
– CPU Stress (Passive Heat-Sink) : ≃ 5.4W (@1908/2208MHz, Stock), 5.8W (@2016/2400MHz, Overclock)
– CPU Stress (Active Cooling-FAN) : ≃ 6.1W (@1908/2208MHz, Stock), 6.4W (@2016/2400MHz, Overclock)
– Power-Off : ≃ 0.2W
Videos
<1> Ubuntu Gnome Desktop 22.04 + Kernel 6.0 + Panfrost + Vulkan API (4GB model)
<2> Kiosk Frontend package + Chromium WebGL demo (2GB model)
<3> Running Dolphin Emulator on ODROID-N2Plus
WIKI
https://wiki.odroid.com/odroid-n2l

The terms HDMI, HDMI High-Definition Multimedia Interface, HDMI Trade dress and the HDMI Logos are trademarks or registered trademarks of HDMI Licensing Administrator, Inc.

HDMI, HDMI High-Definition Multimedia Interface(고화질 멀티미디어 인터페이스), HDMI 트레이드 드레스 및 HDMI 로고라는 용어는 HDMI Licensing Administrator, Inc.의 상표 또는 등록 상표입니다.