There is a system console port in all of ODROID series to monitor the low-level information of target system.
This is very useful and important tool for platform software development.
The system console port uses UART(Universal asynchronous receiver/transmitter) of CPU for communication between your host PC and target board.
Protocol is 115200bps / no-parity / 8bit / 1-stop-bit / No-flowcontrol as usual.
You can use any tty terminal software such puTTY, minicom or hyperTerminal in your host PC.
The UART of CPU has simple 2 signals Tx and Rx with a ground level for communication.
Please note most of new comming mobile processors have 1.8V of IO voltage to minimize power consumption.
In traditional design, there should be a RS-232C level converter MAX232 or MAX3232 or MAX3218 on board.
Addtionally your Host PC must have a RS-232C port.
Note that all of modern PC / Laptop have no built-in RS-232C port you have to buy a USB-RS232 converter.
So this solution is expensive, uncomfortable and bigger footprint.
Fortunately, there are many IC makers have introduced USB-UART bridge ICs.
To meet the low voltage interface specification. we chose the CP2104 USB-UART bridge IC from the Silicon Labs.
You can find the datasheet of CP2104 and its drivers from this link.
http://www.silabs.com/products/interface/usbtouart/Pages/usb-to-uart-bridge.aspx
CP2104 has internal oscillator, LDO, Tx/Rx indicating LED drivers and 1.8Volt IO with reasonable price in 4mmx4mm package.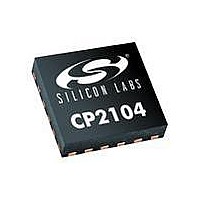 USB-UART Module kit contains below 3 items.
– Micro-USB cable
– USB-UART board with CP2104
– 4pin wire harness to connect to ODROID-X
Let's look into USB-UART board.
You can find Micro-USB connector, 4-pin Wire-connector, USB-UART bridge IC CP2104 and 3 LED inticator on top side.
D1 is Tx LED, D2 is Rx LED and D3 is power indicator. Note this board is powered by USB of host PC.
On bottom side, there are some passive devices and USB signal conditioner of L1.


Place the 4pin wire harness between USB-UART board and your ODROID-X/X2/U2/U3/C1/XU3/XU as below picture.
And place the Micro-USB cable between your host PC and USB-UART board.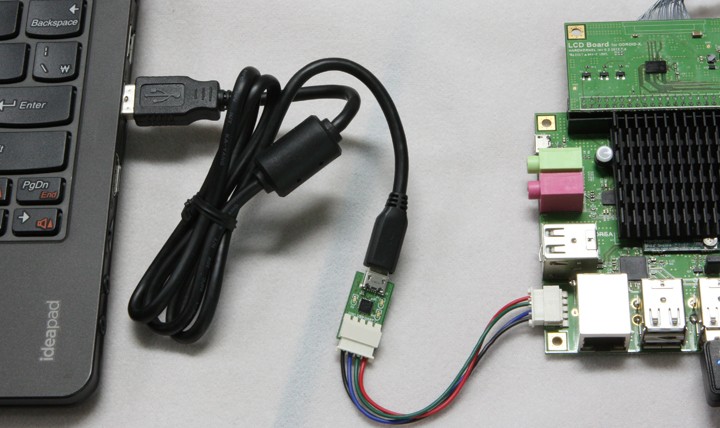 You can download proper device drivers for your host PC.
Click "Tools" tab to get drivers for Windows, Mac and Linux in this link.
http://www.silabs.com/products/interface/usbtouart/Pages/usb-to-uart-bridge.aspx
I want to let you know some information of CP2104 device driver for your host Linux PC.
If your host Linux PC runs Kernel 3.2 or higher, the CP2104 works without any addtional installation/compilation.
Note Ubuntu 12.04 is based on Kernel 3.2.
This is a USB-UART board for ODROID-Q model which also has CP2104.
We call it "Debug board" from time to time.