ODROID-N2+ Home Assistant Blue bundle Limited edition
The Home Assistant developers challenged themselves: what would the perfect home automation hub look like. Not just software, but also hardware and looks.
The result is this limited edition Home Assistant Blue bundle. Hardware that is affordable and fast, packed in a gorgeous case and powered by the most powerful home automation software on the planet: Home Assistant.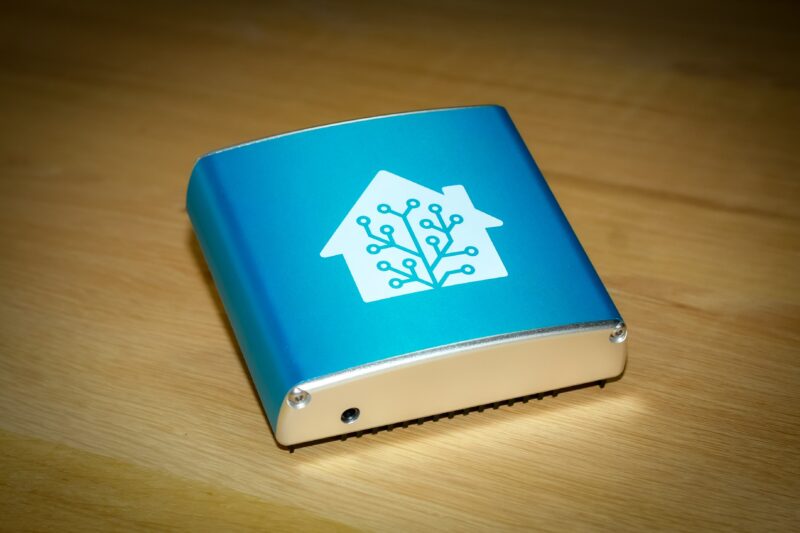 The Blue Vision
Home Assistant Blue is the perfect platform to run Home Assistant, with the perfect look.
Easy to use
Powered by our Home Assistant Operating System, getting started is as easy as plugging in the network and power cables and opening up the Home Assistant mobile app to get started.
Reliable
Home Assistant Blue comes with 128GB of eMMC storage. That's the same type of storage your phone uses. A sudden loss of power won't fry it.
Beautiful
Home Assistant Blue looks as good as the software that runs it: eye-catching. Together with Hahn Werke we have designed a beautiful aluminium case.
Open source
All software that runs on Home Assistant Blue is open source. Including all the hardware drivers. We've worked with BayLibre to fix bugs and get it merged upstream in the Linux kernel!
What's in the bundle
Limited edition Home Assistant Blue case

128GB eMMC storage with Home Assistant pre-installed

RTC backup battery

Power adapter (12V/2A)
Home Assistant Blue is future proof
Home Assistant Blue is powered by a powerful processor, good amount of memory and comes with a large storage.
It allows you to easily run Home Assistant, a couple of add-ons and then a couple more. It will be able to easily integrate thousands of devices and run thousands of automations.
FAQs
I already run Home Assistant. Is this for me?
– If your Home Assistant installation has outgrown your Raspberry Pi or if you want a well supported, dedicated system, Home Assistant Blue is for you.
Or if you are still looking for a present for friends and family.
What is limited about the bundle?
– We have only created a limited amount of cases. Once they are sold out, we don't currently have plans to make more. All other parts of the bundle will remain available for purchase.
What software does this run?
– Home Assistant Blue comes flashed with the official Home Assistant installation for the ODROID N2+.
Specification
Form Factor
Dimensions: 105mm x 98mm x 33mm approximately.

Weight: 300g including heatsink and HomeAssistant Blue metal cases

Processor
Amlogic S922X Processor (12nm fab)  Quad-core Cortex-A73(up to 2.4Ghz) and Dual-core Cortex-A53 (up to 2Ghz)

ARMv8-A architecture with Neon and Crypto extensions

Mali-G52 GPU with 6 x Execution Engines (800Mhz)

Memory
DDR4 4GiB with 32-bit bus width.  Data rate: 2640 MT/s (PC4-21333 grade)

1.2Volt low power design

Storage
1 x eMMC connector (128GB module preinstalled ) 1 x microSD slot (DS/HS modes up to UHS-I SDR104)
Networking
1 x GbE LAN ports (RJ45, supports 10/100/1000 Mbps)– Realtek RTL8211F (Ethernet transceiver)

– LED indicators

* Green LED: Flashing by data traffics at 100Mbps connection

* Amber LED: Flashing by data traffics at 1000Mbps connection

Optional WiFi USB adapters

Video
1 x HDMI 2.0 (up to 4K@60Hz with HDR, CEC, EDID)
Audio
1 x Stereo Audio line-out (3.5mm jack) 1 x HDMI digital output

1 x Optional SPDIF optical output

External I/O
4 x USB 3.0 Host ports (shares one single root hub)  1 x USB 2.0 OTG port for Host or Device mode. (No power input)

1 x Debug serial console (UART)

1 x Peripheral Expansion Header (40-pin, 2.54mm pitch)

– 2 x DC 5V, 2 x DC 3.3V, 1 x DC 1.8V, 8 x GND

– 1 x SPI

– 1 x UART

– 2 x I2C

– 25 x GPIO (Max)

– 2 x ADC input (10bit, 1.8V Max)

– All 3.3V I/O signal level except for ADC input at max 1.8Volt.

Other features
On board RTC(Real Time Clock) IC keeps

time up to several years with a preinstalled CR2032 battery.

8MiB SPI Flash for boot manager

IR receiver for remote controller

Built with a large passive heatsink

System LEDS Indicators:

– Red (PWR) – Solid light when DC power is connected

– Blue (ALIVE) – Flashing like heartbeat while Kernel is running.

Active Cooling Fan Connector (5V 2-pin)

– Connector (2-pin, 1.25mm pitch)

Power
1 x DC jack : outer (negative) diameter 5.5mm, inner(positive) diameter 2.1mmDC 7.5V ~ 18V (up to 25W)

– DC 12V/2A power adapter is included

Power consumption:

– IDLE : ≃ 2.2W (Performance governor)

– CPU Stress : ≃ 5.9W (@2016/2208MHz), 6.2W (@2016/2400MHz)

– Power-off : ≃ 0.2W